Link popularity refers to both the number and the quality of links that point to a given Web page, such as your law firm's home page. Having other Internet sites link to your Web site is important for numerous reasons.

First, your site needs to be accessible to, and indexed by, the major search engine spiders. The spiders that create search engine indexes follow links from Web site to Web site. If no Web sites link to yours, then you are unlikely to be indexed. Although you can still manually submit your site's URL to search engines, having other sites link to yours greatly increases the likelihood that your site will be indexed, and remain indexed.

Another reason for having sites link to your Web site is that not everyone is going to find your Web site by way of a search engine. Some people will find you by visiting another Web site and following a link which leads to your Web site. Having links to your firm on law-related Web sites increases the likelihood of people visiting your Web site when they need a lawyer.

Finally, because search engines rank Web sites based, in part, on their popularity, having more links to your site on the Internet will improve your position in search engine rankings. It is the value of boosting your site's popularity that we will discuss here.

How Search Engines Use Link Popularity to Rank Web Pages

Most search engines currently use the popularity of a Web page as one of the criteria for how it will be ranked when a user performs a search (other criteria include the content and keywords on the page, which we covered in the Keyword Selection Section). Each incoming link to your Web site from another Web site is seen by the search engines as an editorial endorsement from the other Web site, and will increase your popularity in a search engine's ranking algorithm. However, not all incoming links have the same popularity weight; links to your site found on Web pages that are popular themselves and that contain similar content are of more value than links that appear on less popular or relevant pages.

For example, a link to your site from Yahoo!'s home page (http://www.yahoo.com) is worth more in terms of popularity weight than a link from an individual's Web page (e.g. http://www.timstanley.com), because Yahoo!'s home page has a higher popularity rating, due to the millions of Web sites that link to Yahoo!'s home page.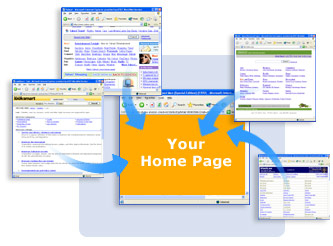 Each individual Web page has its own popularity rating. For example, the Law Firms page in Yahoo!'s directory (http://dir.yahoo.com/ Business_and_
Economy/ Shopping_and_Services/ Law/Firms/) has a lower ranking than the Yahoo! home page. But it does have relevant law related content, namely law firm listings, that make a link from this page valuable to law firms.
Popularity weighting started with Google's PageRank(tm) system, which has now been copied by most other search engines in one form or another.
You can get an approximation of how popular Google believes a Web page is by using the Google toolbar (Microsoft Internet Explorer on Windows only) or by using Firefox and the Google Pagerank Status extension (Firefox runs on multiple operating system, including Apple's OS X). Google will automatically give the Google PageRank of any Web page you are on, using a scale of 1 to 10 (10 being the most popular).
Popularity of Web pages according to the Google Toolbar as of December 18, 2004
Yahoo! Home Page - 9
http://www.yahoo.com
Yahoo! Lawyer Page - 5
http://dir.yahoo.com/Business_and_Economy/Shopping_and_Services/Law/Firms/
TimStanley.com Home page - 4
http://www.timstanley.com
The popularity value of a Web page is often divided among the outgoing links on that page, i.e., a link that appears on a Web page that has only a few outgoing links on it has more popularity value attached to it than would the same link on a similarly-ranked Web page with many links on it. This is something to consider when deciding which categories or Web pages you want your Web site listed and when submitting it to the major consumer Web directories.



Links Copied from Place to Place...Or, Getting Linked on Yahoo! Got Me Linked Up on 5,000 Other Web Sites
When people add links to other Web sites to their own Web pages, they will often look at the major Web directories to see what links they have, and then copy some or all of those links onto their own sites. For instance, many Web sites use with permission the links appearing in the Open Directory Project, or copy links from the Yahoo! or LookSmart directories (without permission).
The impact of this practice of copying links from major directories to other Web sites should not be discounted; it is a key way to get increased distribution for your Web site, and it is an additional reason that getting linked up in the major directories is worthwhile.
There are three major Web directory portals, the Open Directory Project, Yahoo! and LookSmart. The Open Directory Project has free listings, while Yahoo! and LookSmart charge fees for business listings. You should be linked up in the Open Directory and in Yahoo! even if it costs you some money. MSN did not renew its contract with LookSmart to provide LookSmart listings on MSN, thus we do not recommend purchasing a LookSmart listing. You may be able to get a free listing in LookSmart through the Zeal directory.
We cover these directories in more detail in our Web Directory Section, which covers choosing the appropriate submission category and how to write a description of your Web site.
Getting Your Web Site "Linked Up" by Other Internet Sites
In addition to the major portal directories, the following is a list of the types of Internet sites you should consider asking to link to your Web site:
National Legal Sites
Specialty Legal Sites
Regional Law Sites
Business Portals
Law School Alumni Sites
Lawyer Organization and Bar Association Sites
Law School Library and Resource Web sites
Library Sites
Other School Sites
Local Portals
Newspaper sites
National Legal Sites
There are only a few national legal directories that have law firm listings, and only one that links directly to a law firm's Web site from a page that is indexed by search engines free of charge. That directory is Washburn University's WashLaw.edu. Note: Justia will launch a free directory of law firm Web sites in the near future. You should certainly have your firm listed in these free directories, and seriously consider being listed in the directories that charge fees, such as FindLaw and Martindale-Hubbell's Lawyers.com.
Free legal directories include: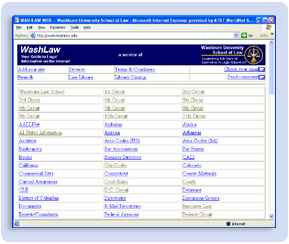 WashLaw.edu
URL: http://www.washlaw.edu/links/
index.php?viewCat=7
Cost: FREE
Washburn Law School runs the WashLaw guide of legal Web Sites, which includes listings of law firms and links to their Web sites. Washburn was one of the first law schools to develop a strong Web presence, and has been the driving force behind much of the legal community's discussion lists.
Paid Legal Directories include:
FindLaw
http://www.findlaw.com/
FindLaw maintains a lawyer directory, which links to the Web sites of firms that advertise with FindLaw.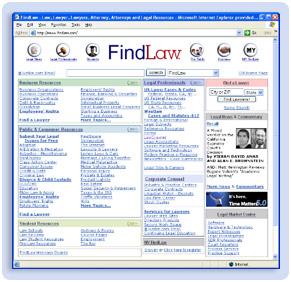 FindLaw does have free law firm listings that contain minimal contact information, and it sells enhanced listings for a yearly subscription fee. The pricing for enhanced listings varies depending on the size of the law firm. Enhanced listings must be purchased through your FindLaw sales representative. The enhanced listings do link directly to law firm Web sites, but the value of these individual law firm/lawyer listings pages is likely to be minimal in terms of Web page popularity ranking, and relatively few have been indexed by Google and the other search engines.
This does not mean that your firm should not purchase a listing on FindLaw, only that the link popularity value of such a listing should not be the basis for such a purchase.
Lawyers.com
http://www.lawyers.com/
Lawyers.com search result listings-pages also use redirect URLs to bring users to law firm Web sites. As with FindLaw, the Web popularity value is likely to be minimal from a Lawyers.com listing or profile.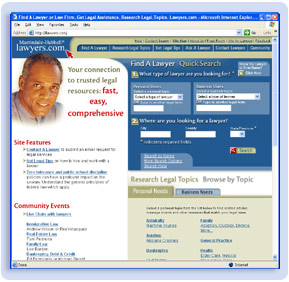 Again, this does not mean you should not pay to be listed on that site, only that SEO should not be the basis for such a purchase.
Yellow Pages
The SEO value of online yellow page directories is similar to that of FindLaw and Lawyers.com - relatively minimal. There are still legitimate reasons to be in a yellow page directory, but the SEO benefit is not one of them. See our Yellow Page Directories section for more information on yellow page directories.
Specialty Legal Sites
There are many specialty legal sites that focus on particular areas of the law. One way to find these sites is by searching through Google or other search engines with keywords related to your practice. The Open Directory Project will also have a list of these sites, which are ranked by their popularity in the Google Directory.
For example, to find a list of popular elder law sites one could:
Web sites exist for nearly every legal specialty, and some of them include links to law firms. Asking these Web sites to link to your Web site is an important step in increasing your Web site's popularity rank, as well as obtaining clients. One of the keys to getting linked up by these specialty sites is to have some unique content to which they would want to link. Although few of these sites actually have law firm listing pages (as many of them are operated by law firms or academic institutions), most will be interested in the research value of your content on a given legal topic. This is one more reason for having valuable, unique content that such sites would find informative and be willing to include a link to on their sites.
Regional Law Sites
There are also a number of regional legal sites on the Internet. Most of these tend to be state-law oriented. If you practice law in a state included within a regional site, it is worthwhile to ask the site to link to your firm. To find regional legal sites, you can search on Google by entering the name of your state and legal terms related to your practice area.
Some examples of regional law sites include: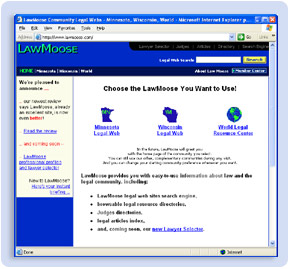 LawMoose/Pritchard Law Webs
http://www.lawmoose.com/
This site links to law firms in both Minnesota and Wisconsin.
La-Legal's Legal Beetle
http://la-legal.com/lawsites/
La-Legal is primarily focused on Louisiana Law, but its Legal Beetle web site has links to law firm sites nationwide.
LawNetCom
http://www.mslawyer.com/a-c.html
Links to Mississippi law firms.
Business Portals
If you provide legal services to businesses, it is worthwhile trying to have some of the business portals link to your firm's Web site. For example, Business.com has law firm listings that it sells for $99 per year. Business.com links directly to the law firm's Web site to support the SEO value of the listing link.
Law School Alumni Sites
Some law schools have links to their graduates' Web sites or attorney pages. If your law school does not have an alumni directory with links to firm Web sites already, it is certainly worth asking your law school to add such a list as an alumni benefit.
Lawyer Organization and Bar Association Sites
Legal organizations will sometimes have links to the Web sites of their members' law firms. This is a good member benefit, and legal associations should be encouraged to set up a list of member Web site links. If you belong to an association that has such a list, you should ask to have a link to your firm's site added to it.
Law School Library and Resource Web Sites
If you have content on your Web site that would be of interest to law students and lawyers, it is worthwhile to submit your site to law school library web sites. To get linked up on such sites, your content needs to be relatively strong, and have an educational focus.
Other Library Sites
If you have content on your Web site that would be of interest to non-lawyers and the general public, it is worthwhile to submit your site to public law libraries and general library Web sites. This would include both libraries connected with schools and universities, as well as general public libraries. Most of these will have a law and government section, which is often the best place to have a link to your firm appear.
Local Portals
Many cities and metropolitan areas have local Web sites dedicated to local entertainment and businesses. It is worthwhile getting linked up by the local portals for your area.
Newspaper Sites
Many newspapers' Web sites will have links to local businesses, as well as links to local Web sites that have useful consumer-related content. Ask your local newspaper if it would consider linking to your site.
Other Sites
There are also other sites that have lawyer directories. Sometimes, legal-support service companies or associations have lawyer directories to get the attention of law firms. In any case, it is worth getting linked by these Web sites to increase your link popularity. Some examples are shown below.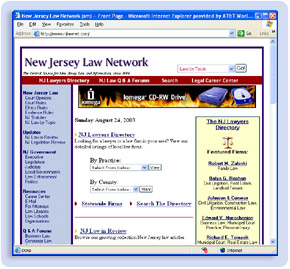 Graphic Witness Fort Lauderdale-area
Law Firms on the Web
http://www.graphicwitness.com/lawfirms/